#{title}#{text}
#{title}#{text}
#{title}#{text}
#{title}#{text}
#{title}#{text}
OUR DAIRY
From Our Farm to Your Table
We are a family farm in the Cowichan Valley milking 50 Holstein cows and raising our own calves and heifers. We grow all our own grass to feed our cows year-round with some purchased grain and alfalfa. Our goal is to take the very best care of our cows as they rely on us and we rely on them.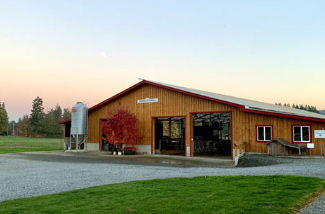 For many years we had talked about the possibility of pasteurizing, bottling, and selling our own milk and with our son Matthew joining the farm it seemed like it was the time. Planning started in 2012 and now seven years later we are happy to say that our dream has become a reality as Cowichan Milk Company!
Our desire is to give you the freshest, tastiest, highest-quality milk that you have ever served you and your family. From our farm to your table, we hope that you enjoy it just as much as we and our children and grandchildren do!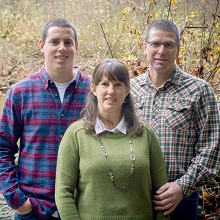 Matthew, Margie,
and Ben vanBoven
OUR HISTORY
In the late 1940s the Inglebright family pioneered the land at 4590 Koksilah Rd. The land that was once a forest would become very productive grassland to grow grass and hay. The lumber would be used to build a home and a large hip-roof barn for the family's dairy cattle and also provide a modest living for their family. William Inglebright, along with his son and daughter-in- law, would work long hard days to realize their dream of dairy farming in the Cowichan Valley. The hip-roof barn still stands and is now covered in steel siding to protect it from the elements, but if you go up into the barn you will see hand hewn logs and timbers placed with care. Helen Inglebright (granddaughter to William) resided in the Cowichan Valley until her recent passing in August 2019, and William's great-great-granddaughter is one of the veterinarians who helps take care of the cows on the farm.

The hip-roof barn was built in 1949 by the Inglebrights.
The farm was sold in 1953 to the van der Kley family and they also dairy farmed for seven years until the farm was purchased in the spring of 1960 by Herman and Ida vanBoven. Herman and Ida are both immigrants from Holland and they met and fell in love here in Canada. Herman dairy farmed with his family in Holland. With many brothers in the family and the hard economic times during and after the war, Herman decided to visit Canada for one year to see what it was like. After living here and seeing the opportunities, Canada became his home.

Steel siding was added in 1984 by Ben and Herman.
Herman and Ida purchased the original farm of 55 acres along with 14 milk cows which were milked in the stanchion barn (the big hip-roof barn). They were blessed with seven children, and four of them and their families still reside in the Cowichan Valley. Ben joined the family in May of 1961 and is the third child. In 1967 big changes happened on the farm – a new freestall (cow) barn and a single four stall milking parlour were built. Life on the farm was good with all the kids participating in varying ways, Mom keeping everyone fed, and Dad building the herd from 14 to 40 cows.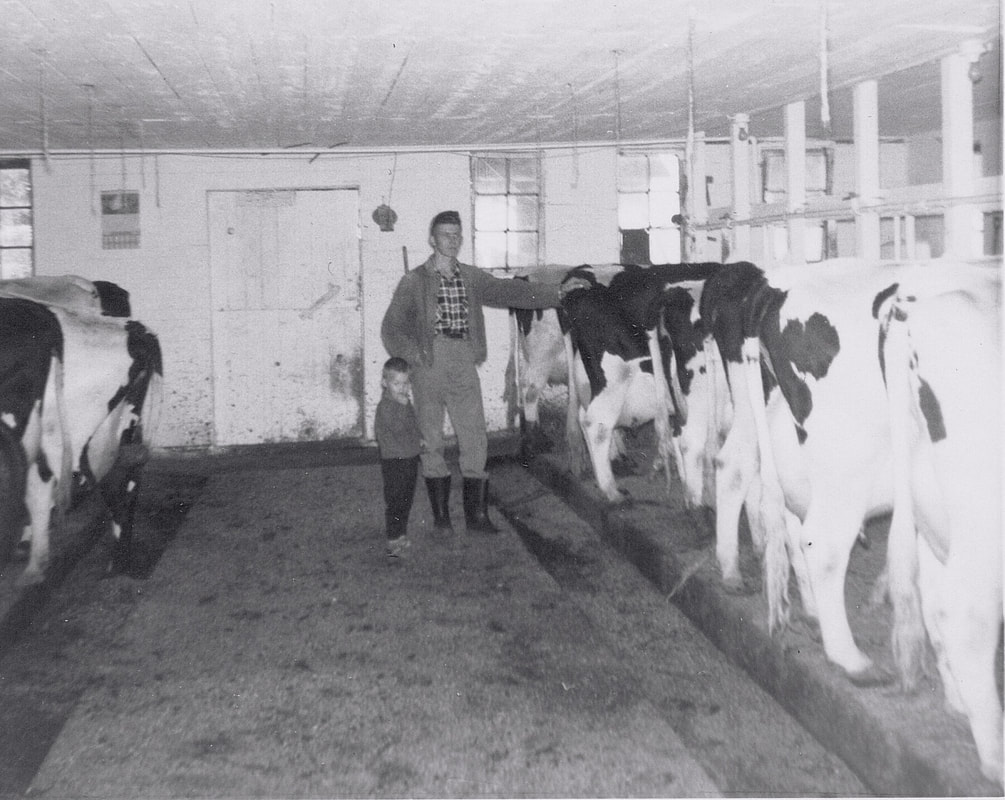 Herman and Len in the stanchion barn in 1964.
Ben started working with his Dad full time in 1981 and started investing in the farm in 1984. Margie was seen often on the farm during this time as she was good friends with Ben's sister and she occasionally helped milk and in the summer hauled hay with the family. The rest is history – they married in September 1985 and moved into the little white house on the farm that was originally Ben's grandparents (Ben & Barbara Wolters). Having kids was soon to follow with Amy '87, Melissa '90, Matthew '91, and Amanda '92 becoming the next generation of potential farmers.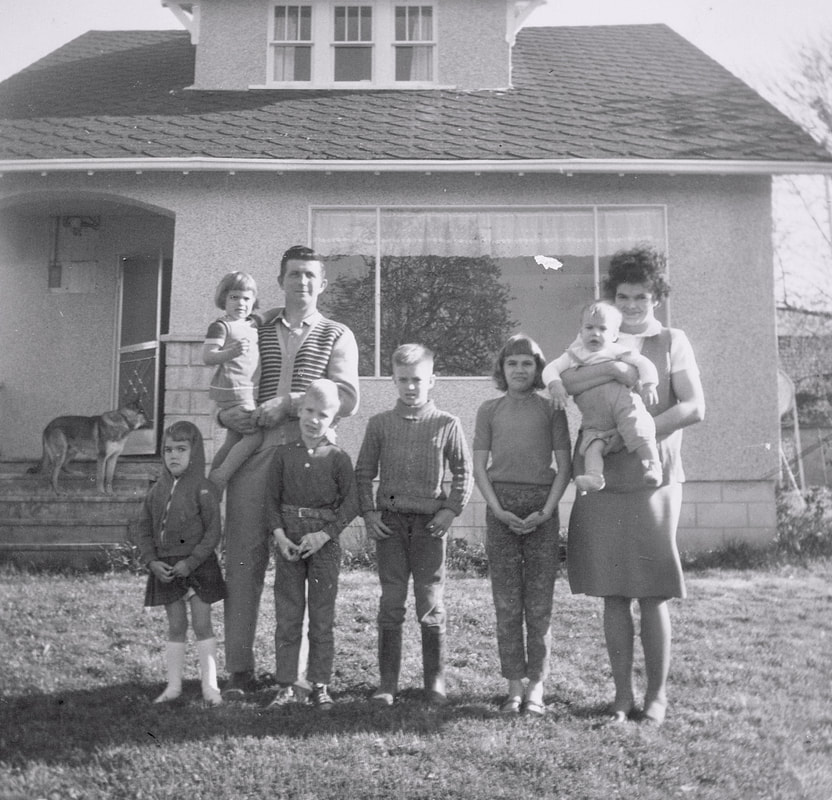 Herman and Ida and six of their seven children in 1967 (Betty, Len, Ben, Hilda, Joyce, and Ernie - Shirley completed the family a couple years later).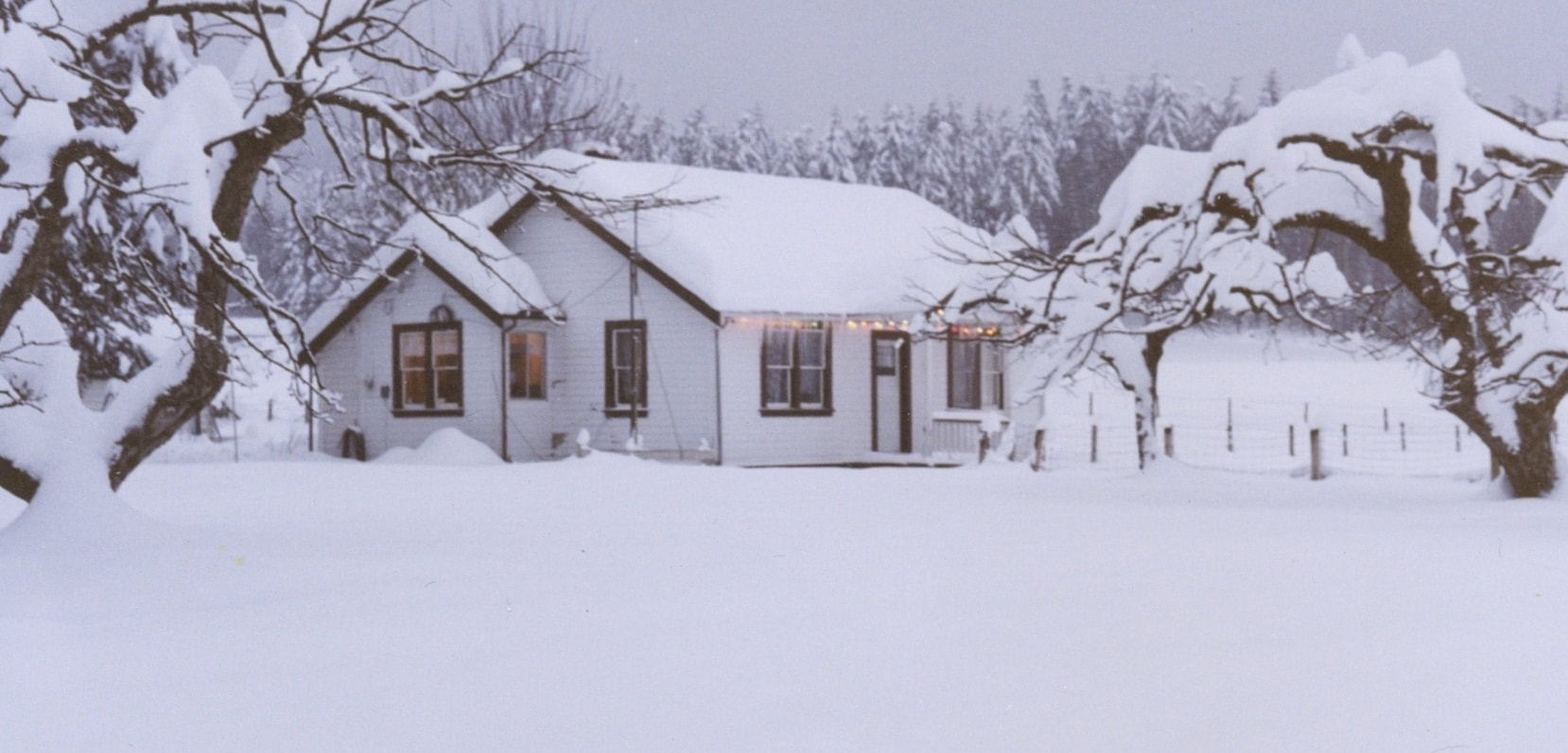 The little white house.
In the spring of '91 we switched houses – Ben and I moved into the farm house and Herman and Ida moved into the little white house. This was a good time of transition for all of us and in January 1993 we purchased the farm! We were able to make a dream become reality and we are very thankful for this. Dad and Mom stayed in the little white house for 15 years and then moved closer to Duncan. Dad had Alzheimer's for many years and did not get to see many of the changes that continued to happen on the farm before he passed away in 2013. Mom continues to live in Duncan and enjoys having so much family close by.

Herman and Ida during haying season; Island Farms sign around 1985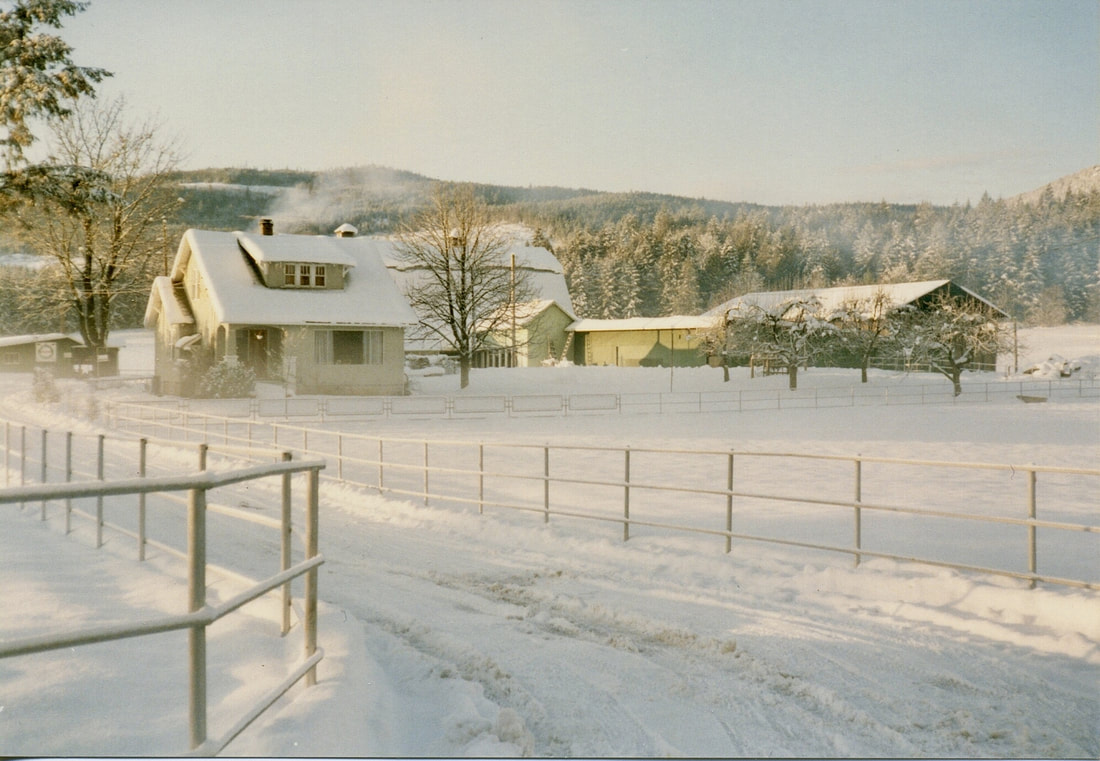 The farm house has grown and changed since this photo in 1994.
Amy, Melissa, and Amanda are married now and although they loved being raised on the farm, they and their spouses have different careers and they love to come and visit. From a young age Matthew has had a passion for farming and the land. As soon as Matthew was old enough he would be outside with his Dad, constantly following him around and "helping" in any way he could. As he got older he would work hard at school so in the spring time he could get out at lunch time to help Ben in the fields with cropping. After graduating from school Matthew worked for us full time during the spring, summer, and early fall and during the winter months, when work was slow on the farm, he found employment in other industries and locations. Now with this new venture he will be able to enjoy full time employment on the farm year round.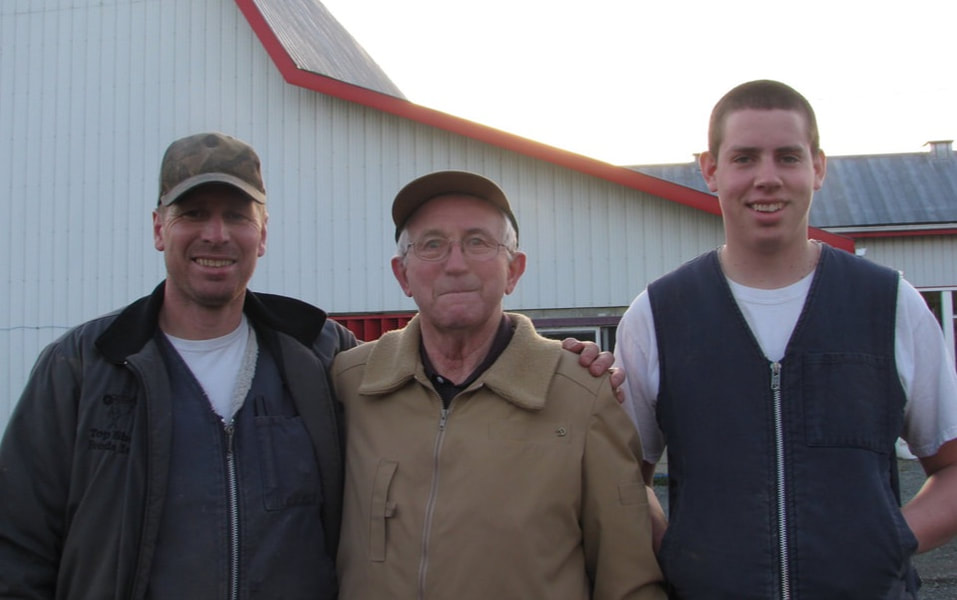 Ben, Herman, and Matthew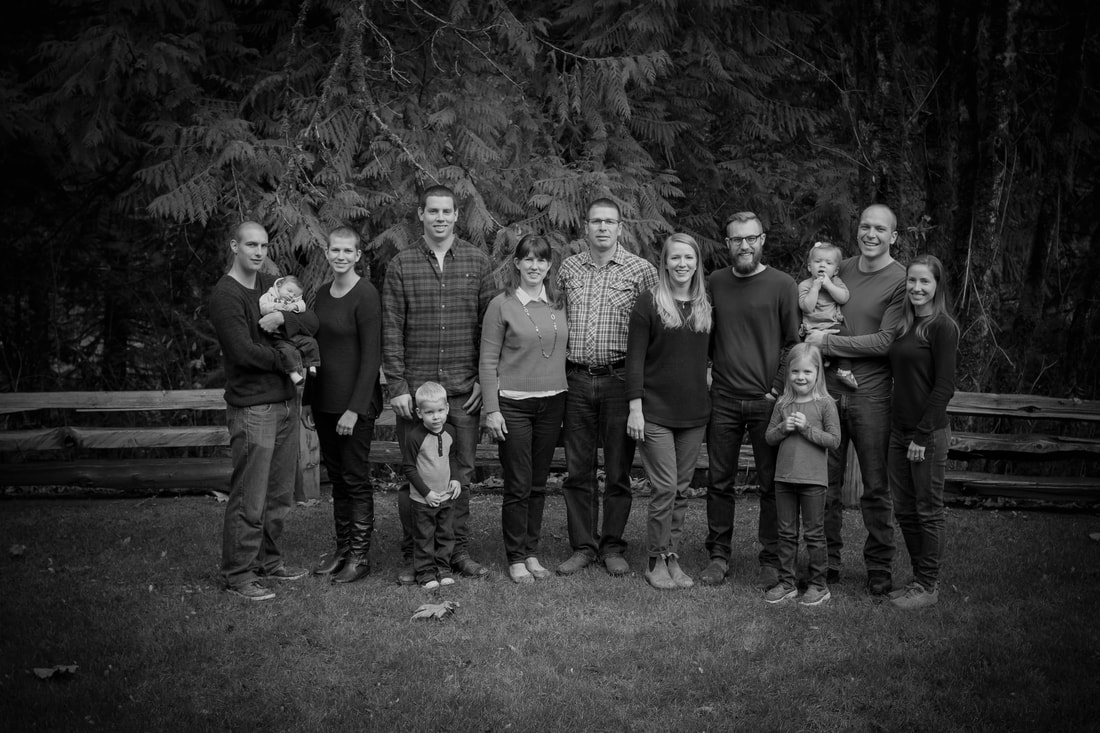 From left to right: Sjako, Benjamin, Amanda, Matthew, Sam (from Victor & Amy), Margie, Ben, Melissa, Darren, Claire, Tessa, Victor, Amy
When we purchased the farm in 1993 we continued milking in that same 1967 parlour for another 19 years with improvements made along the way. As time went on, the barn was starting to show its age and we knew that we would either have to do a major renovation or build something new. We made the decision to build new and planning began in 2008 to build a brand new facility with robotic milking. Matt played a very active part in the planning and building of the new barn. We started building this new barn in July of 2011 and we moved the cows into the barn on April 4, 2012. The barn can house sixty milk cows plus maternity cows and dry cows and up to twenty-four calves. Robotic milking is a totally new lifestyle for our family with no one having to get up at 3am! We are enjoying the new barn and the more restful milking lifestyle and the cows enjoy having access to eating, drinking, sleeping and milking 24 hours a day.
Matt, Margie, and Ben do the majority of the work on the farm (Darbi works off the farm and helps out when she is off) and we hire occasional workers during crop season. We each have our strengths on the farm and together we work to take care of the land and produce the best quality product from healthy and happy cows. We are privileged to see our grandchildren visit and get to experience the great life that farming is, and we hope and pray that this will continue into the future. We are a true family farm that loves the life and the opportunities we have been blessed with. And now a new dream begins with Cowichan Milk Company. This is something that has long been talked about, and we are excited to take on this new venture to bottle our milk and sell it to the Cowichan Valley community.
Our farmstand stocks our milk and cream, but we also offer over 400 foods from Vancouver Island farmers, bakers, and makers through our home delivery service.
TRY HOME DELIVERY